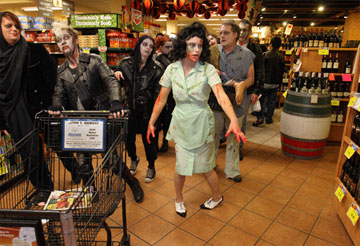 Even though she's no longer with us, Chani remains a source of inspiration and courage for me.
From Chani's blog, September 30, 2006
I have found that giving up materialism and consumerism has brought me to a higher respect for all life around me, the things around me and a consciousness of the way I view others. This culture teaches that human value is determined by participation in the economy. A lawyer has more value than a customer service representative, as an example. This culture diminishes the disabled, the elderly and the poor. It diminishes extended family. It places the individual above the common good. It diminishes primary relationships, turning them into utilitarian contracts. I am very aware of how much this has crept into my thinking and I have always been socially conscious, so I thought. Now, I deliberately watch for this and change it. It's very subtle and pops out in the most unexpected places. (Just today, I read a rather vile post on one of my Buddhism mailing lists in which a member ran down homeless people. Two years ago, I wouldn't have challenged it. Today, I did.) It has increased my compassion
.
I believe Chani was way ahead of most of us in her level of awareness about the reality of the culture we have created. In the quote above she expresses the imbalance with which we live in a few succinct sentences, and brilliantly. Also, in one small paragraph she shares with us ways she had found to be the change she wished to see in the world.
As my own awareness expands to include more painful realities to be faced, I'm humbled by Chani's fierce spirit. She undertook the responsibility to change her reality from the inside out, despite a world that never offered her much in the way of support. The more of us who become willing to follow her lead, the easier the transition will be as global civilization continues to crumble.
Chani successfully dealt with her own addictions and like anyone who has addiction, she knew that more than anything addiction is about loss. Not only loss of material things, but deeper more important losses: dignity, self-respect, relationships, the simple ability to feel your feelings no matter how uncomfortable to you or anyone else they are. It takes great skill and creativity to understand the insanity of this world and still work to gain the resources needed to live your life. Chani had the imagination and she developed the skills to drop every notion of what Western culture taught her was "normal" and to forge a fulfilling life.
I don't think many of our general population has any idea how to get up day after day, when the losses seem too great and the disease too far progressed and still brush their teeth, still get dressed and still find meaning within daily life no matter how diminished life may seem at the moment. No idea how to navigate a world where compassion, kindness and value for all of life have taken a backseat to greed, self-aggrandizement and hate.
We have lived within the illusion that our way of life was right. We've turned a blind eye to the way we've abused our own resources and a lot of the rest of the worlds as well. As long as we could still get a fix from a new toy (gas-powered of course) or the right brand name t-shirt, shoot-up with our own sense of superiority over those less fortunate and cop-out on our responsibility to our fellow earthlings (animal and human alike) we could maintain the illusion.
But as soon as the things we count on to keep us transfixed start falling away the illusion fades. And then what're we gonna do?
Currently I'm doing a good job of detaching from the shared hallucination. I have let go the American Dream and man what a relief. I was lucky, though. The illusion never worked very well for me in the first place so I've had experience with breaking free from it, but only recently have I been able to maintain the disconnect. I find that as I continue to watch from a safe distance, my personal equanimity finds its place again.
I believe part of the illusion in my own case was getting caught in the Western dream of recovery from addiction. If one just follows these steps, reads this book, does these exercises, takes this medication and prays daily to a patriarchal god, one can become "free." Sometimes what we think is our salvation is just another trap, another rabbit hole, another place to hide.
I don't mean to sound flippant about my past year's of alcoholism when I write about getting drunk one night on a family vacation and interrupting a perfectly good trip with my problem. But there comes a point when one has to consciously choose to leave that
shame
and guilt behind, realizing that it's all internal and that sobriety will surely not be had while lugging it around. There comes a point when one realizes that the more attention one gives to addiction, whether it's living in it or "recovering" from it, one is still feeding the beast. I'm finding that when I stop feeding him – physically, mentally, emotionally and spiritually, he just slinks off to a dark, damp corner and lies in wait – one eye open, cold and wet and hungry. I imagine his one eye becomes heavy with sleep and pretty soon he's just a snoring hunk of junk, harmful only to those who fear him still, only to those who have to keep living a collective nightmare.
I don't freakin' think so.